The fruit and vegetable lexicon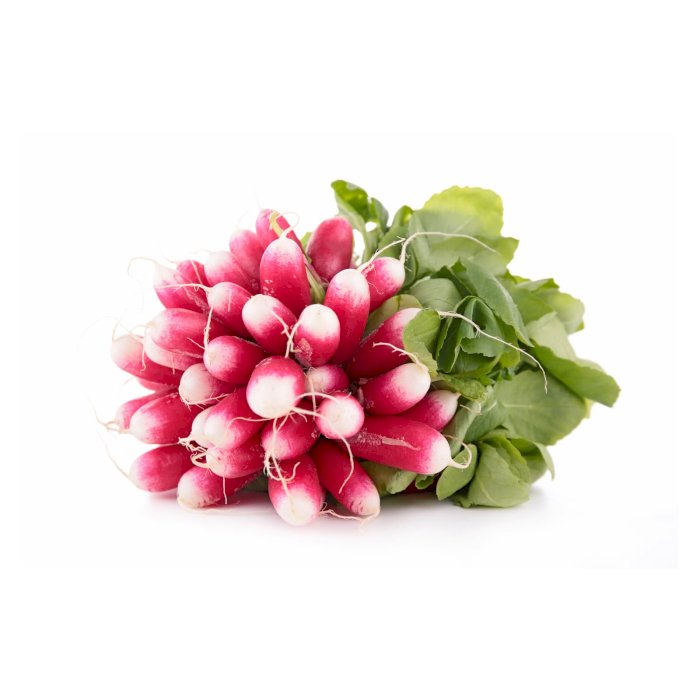 Radish - Vegetables
Description
The radish, which bears the scientific name of Raphanus Sativus, is a vegetable-grown horticultural plant. It belongs to the family Brassicacées.


Origins
The name radish comes from the Latin Radix. Unknown in the wild, the origins of this small cruciferous plant date back several centuries before our era. From its native China it reached the Egyptians, Greeks and Romans by the Silk Road. The radish of the Romans was far from those of today, which are the result of numerous crosses. We'll have to wait until the Renaissance to discover radish in France.


Characteristics
Radishes are considered annual plants, but some varieties may be biannual. These vegetables are provided with a tuberized hypocotyl of different shapes, spherical or cylindrical, that is presented under a variable color, monochrome or bicolor, ranging from white to pink, red, violet, yellow, green or even black, while its pulp is almost always white. There are three main types of radishes. First, the Daikon, long, conical and white, which comes from Asia. Secondly, the Black Radish, long and thick, originating in Eastern Europe. In the third place, the Small Radish, whose color differs according to the varieties. Among them we can easily recognize the Cherry radish, round and scarlet, the National Radish, carmine on the white tip, the Gaudry, round and red on the white tip and the Radish 18 days, medium long and pink on the white tip.


Other facts
Black radish, Raphanus Niger, was already known and consumed by the Egyptians at the time of the Pharaohs. In the temple of Karnak there are hieroglyphics that represent it.
Production
Europe produces 260,000 tons of radish and France remains the second European producer of this vegetable behind Germany, but ahead of Italy and the Netherlands. In our country, production is estimated at 49,000 tons, which are harvested mainly in Pays du Loire, Rhône-Alpes and central France. The French consume an average of 600 grams per person per year.
Seasonality of the product