The fruit and vegetable lexicon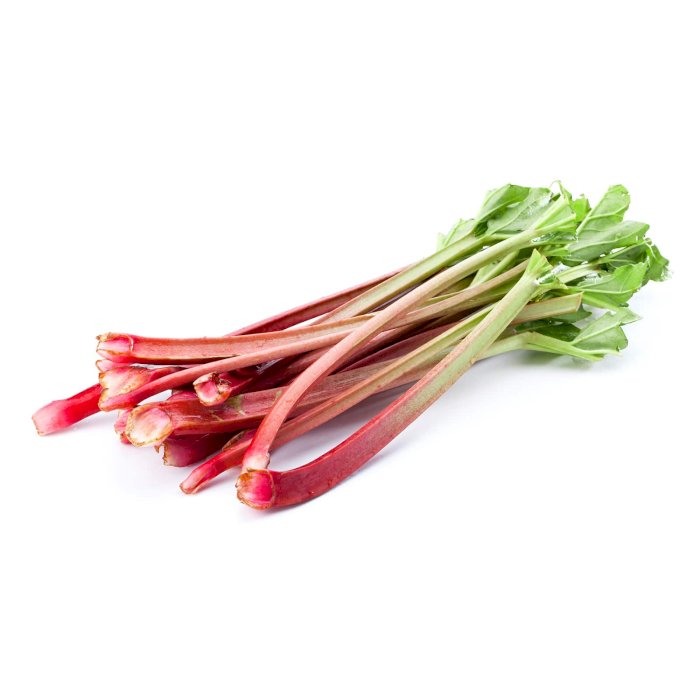 Rhubarb - Roots & Tubers
Description
Rhubarb, scientific name Rheum Rhabarbarum, is a horticultural plant of the genus Rheum belonging to the family Polygonaceae.


Origins
Rhubarb comes from western China, that is, from the confines of the high Tibetan regions. Several species of rhubarb were already present in ancient times. It was introduced to Europe in the 10th century by the Silk Road thanks to Arabo-Persian traders. It is often erroneously mentioned that Marco Polo was the first Westerner to know of its existence, but it was the Franciscan William of Rubrouck who first imported it into Europe. The word Rhubarb comes from the Latin Reubarbarum.


Characteristics
Perennial plant, reinforced in a thick tuber more or less sunken in the ground, rhubarb appears during the winter in the form of ovoid mass, more or less elongated, formed by a fleshy part ending in one or more short buds covered with scaly and brown bracts. The base of the plant extends into robust roots. Some varieties of rhubarb have a particularly aesthetic flowering and are grown as ornamental plants. This is the case of the variety Rheum Palmatum Atrosanguineum, with an intense red inflorescence and dark green foliage. Of it, only the stem is edible, similar to that of celery and composed of bright green and red colors. Its roots and leaves contain oxalic acid in large quantities being this toxic, so they should not be consumed in any preparation.


Other facts
The release of the seeds is anemocratic, that is, it is guaranteed by the wind.
Production
Rhubarb is produced worldwide in all temperate climate regions. However, there are few species that grow on the Indian slopes of the Himalayas. In Switzerland, in the canton of Vaud, on the border of the canton of Freiburg, rhubarb is a speciality of the Vully region where it has been cultivated for decades. In Yorkshire, in northern England, there is still a type of forced rhubarb harvest in candlelit shelters.
Seasonality of the product
Grades
Diamètre 1 Cm
Diamètre 1,5 Cm
Diamètre 2 Cm