The fruit and vegetable lexicon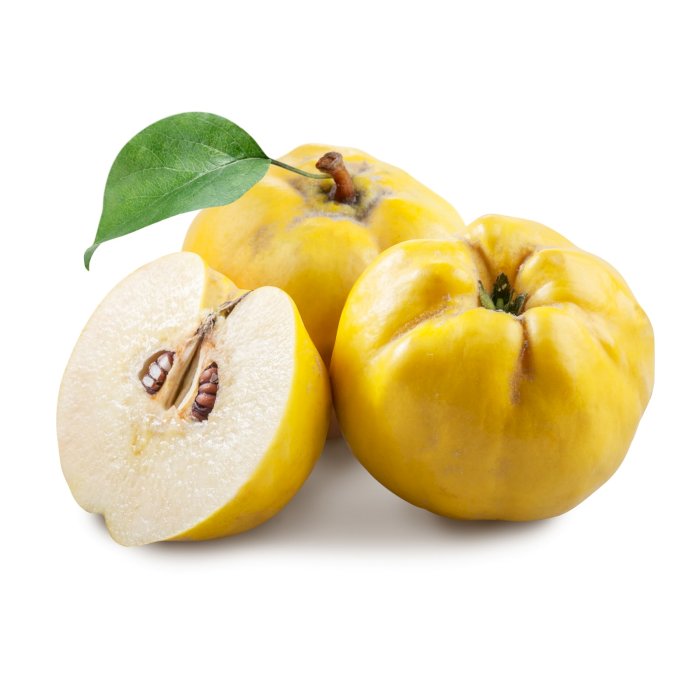 Quince - Fruits
Description
The quince is the fruit of the tree plant Cydonia Oblonga, belonging to the Rosaceae family.


Origins
Native to warm temperate regions, including Asia Minor, this fruit was known since ancient Greece, its most popular variety came from Kydonia, the coastal region of northwestern Crete, where it obtained its scientific name of Cydonia.


Characteristics
Pear-shaped, but more voluminous, its fruit is ripe with a cotton-like surface, yellow and very fragrant. This maturity requires a Mediterranean climate with long periods of heat, as happens in Greece or Portugal. Then it can be consumed raw. In temperate regions less exposed to high temperatures, they remain hard, astringent, acid, and can only be consumed after cooking. An ancient method was to expose them to frost to soften them. They are acidic fruits with a high pH of about 3.7. They contain malic acid, tartaric acid, acetic acid, oxalic acid and very little citric acid. Rich in pectins, the quince contains very few saturated fats, cholesterol and sodium. They also contain clusters of stony cells that give their pulp a granular consistency.


Other facts
It should be noted that the term jam originally meant marmelos marmalade, that is, in Portuguese, quince jam.
Production
It is in Turkey that the production of this fruit is the most important, since it is equivalent to 22% of the world production. This country effectively harvests 180,000 tons a year. It is followed by China, which produces 115,000 tons, Iran, 78,000 tons and Morocco, 46,000 tons.
Seasonality of the product