The fruit and vegetable lexicon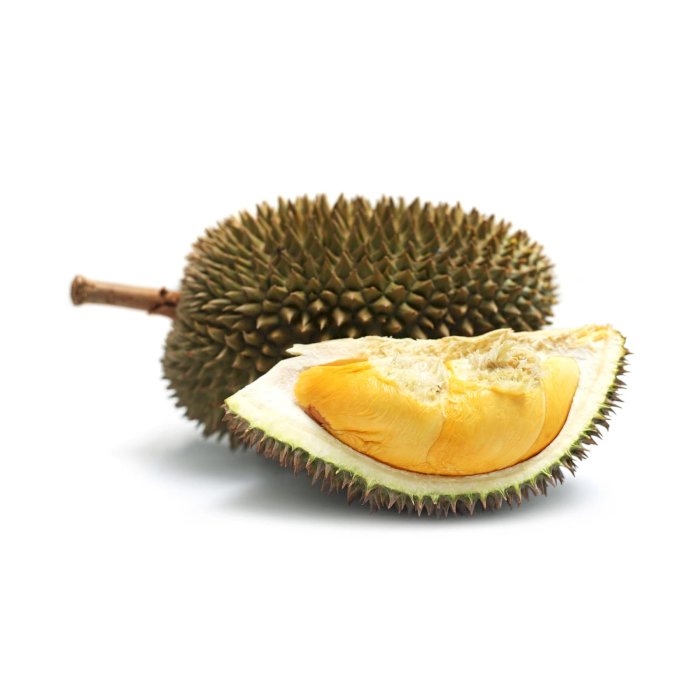 Durian - Exotic Fruits
Description
Durian is a tropical tree belonging to the Bombacaceae family. Of scientific name Durio Zibethinus, it produces edible fruits of the same vernacular name, durian or durio.


Origins
The plant and fruit originate from South-East Asia, more specifically from Malaysia, Indonesia and Brunei. Its name comes from the Malay Duri, which means thorn, but also from the Indonesian Durian or Thai Thurian.


Characteristics
Trees can bloom twice a year and bear fruit from the fourth year. Its fruit is very voluminous, has a length and a diameter of 30 by 15 cm, and is lignified when ripe. It has a greenish colour and numerous conical thorns. Depending on the species, this colour can vary from brown to orange red. It opens in five valves each containing five seeds drowned in a white pulp with the smell of putrefaction. A team of Singaporean researchers has sequenced about 46,000 genes from a variety of durian, the Musang King. After comparing the activity of these genes in different parts of the fruit, the researchers identified volatile sulphurous chemical compounds responsible for their stench.


Other facts
Its smell is so repugnant that it is forbidden in public places and in public transport in many Southeast Asian countries.
Production
Thailand is the world's leading producer of this fruit. It is followed by Indonesia, Malaysia and the Philippines. To a lesser extent, Durian is also harvested in Cambodia, Laos, Vietnam, Burma, India, Sri Lanka, Florida (USA), Hawaii, China and Australia. But also in South America, where it appears in the markets of French Guiana.
Seasonality of the product