Did you know?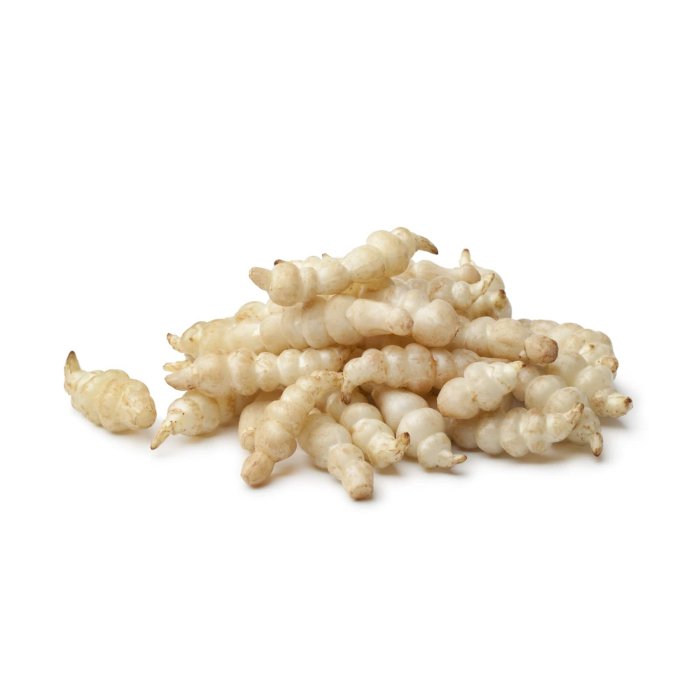 Chinese Artichoke - Roots & Tubers
Description
Grown in our country for the first time in Crosne (Essonne), the city to which it owes its French name, the Stachy affinis, also known as Chinese Artichoke.


Origins
It is a herbaceous and perennial plant of the family of Lilamiaceae that comes from northwestern China.


Characteristics
Its cultivation came back in the 70s and now, in winter, it is possible to acquire this pearly white tuber that looks like a large caterpillar. It has a fine and sweet flavor, similar to artichokes or salsify. They are usually rubbed with coarse salt and bleached, and they can be fried, cooked with butter, or seasoned like the artichokes of Jerusalem. The Chinese usually consume it as a pickle, seasoned in vinegar and sometimes in pepper. According to their harvest, the rhizomes are planted in spring, but the plant does not develop new tubers until September. These, in chain and rolled in themselves, have a pearly white color. They grow like potatoes in underground stems that carry many protuberances.


Other facts
This botanical family gathers numerous spice, medicinal and melliferous plants, among which are mint, satureja and melissa. In 1882, in Crosne, a member of the French acclimatization society, Auguste Pailleux, began to cultivate the Stachy affinis. Since then, it has prevailed in the gastronomy as a side dish vegetable, very popular between 1890 and 1915, and is becoming more and more scarce due, in particular, to the important time it is necessary to dedicate to its cleaning and preparation.
Production
In our latitudes, the harvest begins in November and continues throughout the winter. In our country it is produced in some regions such as the Loire Valley, in the Parisian area, in Burgundy, Brittany or also in Picardy, in loose, sandy and well-exposed soil.
Seasonality of the product