Did you know?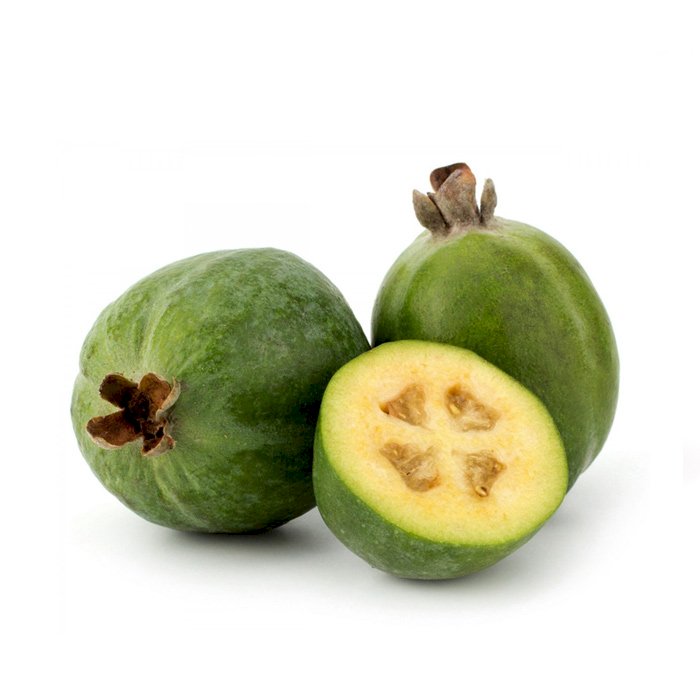 Feijoa - Exotic Fruits
Description
The Feijoa, Acca Sellowiana, is named Pineapple guava or guava in South American countries and belongs to the Myrtaceae family.


Origins
The Feijoa is native to the mountainous areas of southern Brazil, northern Argentina, Colombia, Paraguay and Uruguay. It was imported into Europe in the 19th century. The name Feijoa was given to the plant and the fruit by the botanist Otto Karl Berg in honor of the Brazilian naturalist Joao Da Silva Feijo.


Characteristics
Feijoa fruits are oblong berries and the size of an egg. They are covered with a thin skin with a slightly hairy, rough or smooth epidermis, depending on the variety. When ripe, the wrapping can vary from yellow to green and give off a pleasant smell. In regions where the summer is prolonged and the temperatures are mild, feijoa will produce small green, tasty ovoids rich in vitamin C. The texture of the pulp is juicy in its center and slightly grainy in its periphery. The aroma of this exotic fruit is unique and resembles a mixture of pineapple, guava and strawberry. It perfectly combines acidic and sweet flavors.


Other facts
When the fruit is young, it has a pleasant acidic taste, but when it is too ripe, it exhales a scent of turpentine essence.
Production
Although the Feijoas are native to South America, they were adopted in the antipodes by Australians and more so by New Zealanders, who turned them into an export industry. Of course, these fruits are still cultivated in the regions of the world from which they come, but also in Russia, Iran, Spain and Italy.
Seasonality of the product