Did you know?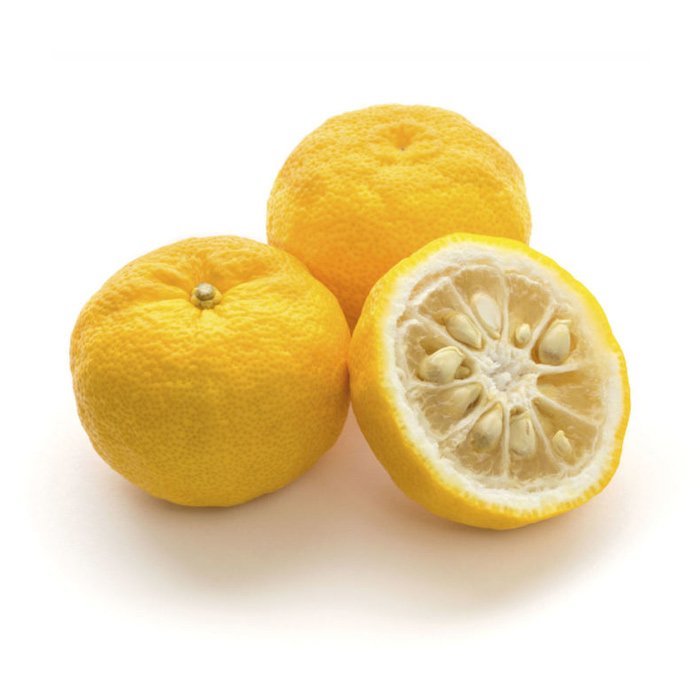 Yuzu - Citrus
Description
The Yuzu, of scientific name Citrus Ichangensis Citrus Reticulata var. austera is also called Kan-Sou orange tree. The term Yuzu refers to both the citrus fruit and the tree on which it grows.


Origins
Yuzu is a citrus from China and Tibet. It is probably a natural hybrid of wild mandarin orange and Ichang lemon. It was during the Tang dynasty that it reached Japan and Korea. Subsequently, its consumption developed strongly in these two countries and, as it participates in numerous rituals, this citrus has become its national fruit for more than a millennium.


Characteristics
Its peculiar and unique flavor appears flagrantly as a mixture of lime and mandarin orange. Once ripe, it will take 20 years to bear its first fruits. The fruit, Citrus Juno or Citrus Ichangensis, is a citrus similar to a small pomelo, 5 to 8 cm in diameter and weighing 140 to 200 grams. It is endowed with a thick and dented peel. Its pulp contains up to 20 large pips and produces little juice, only 15% to 18% of the total volume. Although the juice is highly appreciated, the fruit is mainly used because of its very scented zest.


Other facts
It should be noted that a Yuzu tree only produces 15 to 20 kilos of fruit, of which only 3 liters of juice can be extracted.
Production
It is produced mainly in southern Japan, on the island of Shikoku, which harvests 20,000 tons, and in Korea, on the island of Jeju. This fruit is also harvested in Europe for top class restaurants. It is also produced in open fields in Australia, Brazil, Spain, Portugal, Quebec, the United States (California), Switzerland under greenhouse conditions, and in France in the Var region.
Seasonality of the product