Did you know?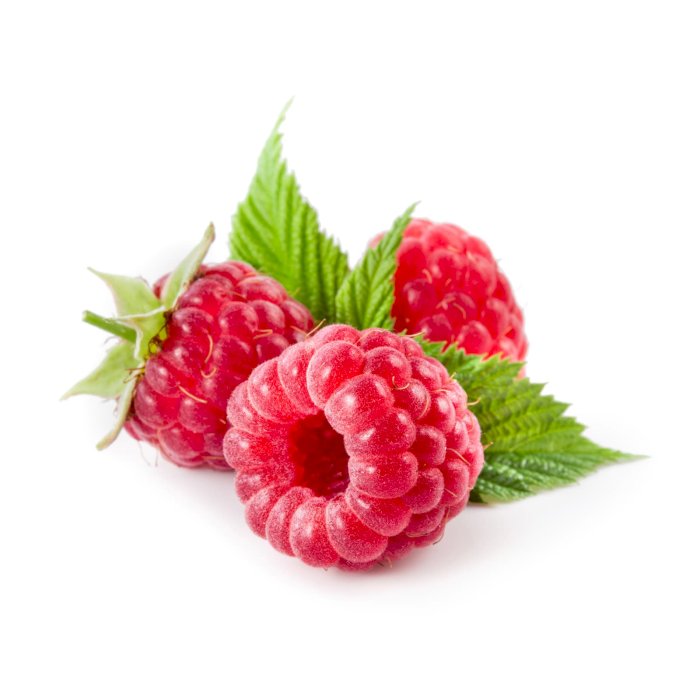 Raspberry - Berries
Description
Raspberry is the fruit of the raspberry, or raspberry tree, Rubus Idaeus, a perennial shrub in the Rosaceae family.


Origins
It is native to the mountainous areas of western and northern Europe, where it still exists in the wild. The term raspberry comes from the ancient Germanic francic Brambasi, Bram meaning bush, and Basi, berry. According to the hypothesis defended by some philologists, the passage from its initial [b] to [f] is partly linked to the analogy of this fruit with the strawberry previously known as fraie.


Characteristics
Raspberry is a red fruit that, depending on whether it is wild raspberries or cultivated varieties, weighs 4 to 10 g, measures up to 2.5 cm in diameter, and has 40 to 80 drupes. Ovoid or conical in shape, the fruit has a sweet taste accompanied, depending on the varieties, by a touch of acidity. Its skin is covered with microscopic hairs, which gives the raspberry its velvety appearance. From the botanical point of view, this reddish-pink fruit is the result of several tiny one-flower carpels into drupes. The fruit is a polydrupe, since each drupe, filled with a juicy pulp, contains a seed. In the varieties that bloom, which allow several annual harvests, a first fructification takes place from the first year. But whatever the variety, the great fructification takes place in the branches of the previous year.


Other facts
The Nordic origins of this fruit are attested by the fact that no other Romanesque language knows this word, for example in spanish is Frambuesa and in Portuguese is called Framboesa, therefore they happen to be borrowed from the French language.
Production
This fruit still retains all its appeal. The main world producers of raspberry are: Russia, with an annual production of 144,000 tons, Poland, with 126,000 tons, United States, with 103,000 tons, and Serbia, with 61,000 tons. Each year, France produces three thousand tons of this fruit for fresh products, unprocessed, harvested 27% in Rhône-Alpes, 11% in Aquitaine and 10% in Auvergne.
Seasonality of the product