Did you know?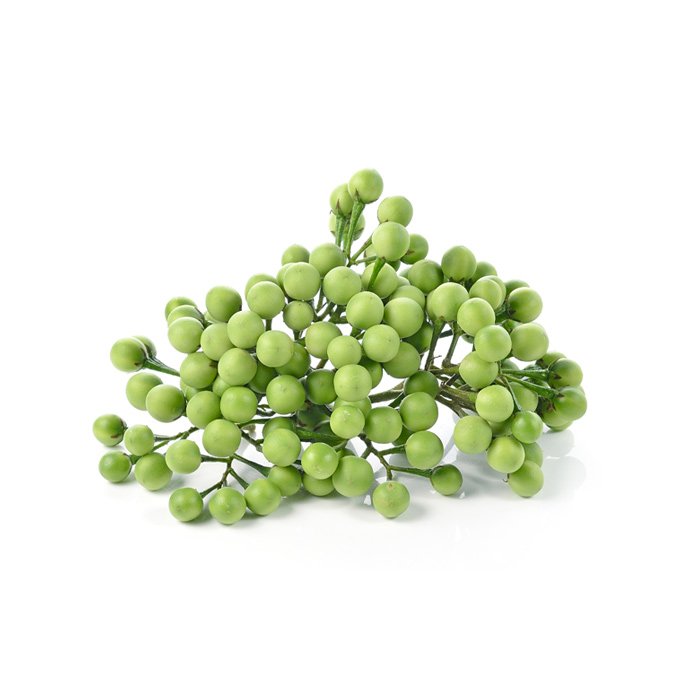 Pea Eggplant - Exotic Fruits
Description
The Wild Eggplant or Solanum Torvum, is a plant belonging to the family of Solanaceae. It is also known as turkey berry, prickly nightshade, shoo-shoo bush, pea eggplant and pea aubergine.


Origins
Native to the Caribbean and more specifically the Antilles, this species is present in all the tropical zones of the world.


Characteristics
Solanum Torvum is a sparsely branched shrub that can rise up to 3m height. It grows yellowish, greyish or even greenish globose berries when ripe, 1 to 1.5 cm. in diameter. The fruits, which are presented in clusters, contain many flattened seeds, from 2 to 2.5 mm. in diameter. It is consumed mainly for medicinal purposes such as seizures, coughs, asthma, gout, rheumatism, syphilis and skin diseases.


Other facts
In New Caledonia, where it is believed to have been introduced in 1900, it is still considered an invasive plant and a major pest in neglected crops and pastures.
Production
Wild eggplant is grown as a vegetable in South and South-East Asia. It is especially appreciated in Thailand, where it is systematically incorporated into many curries. In Côte d'Ivoire it is used in the preparation of Gnangnan and Gouagouassou sauces. In New Caledonia it is called False Eggplant, as it is often used as a rootstock for common eggplants.
Seasonality of the product