Did you know?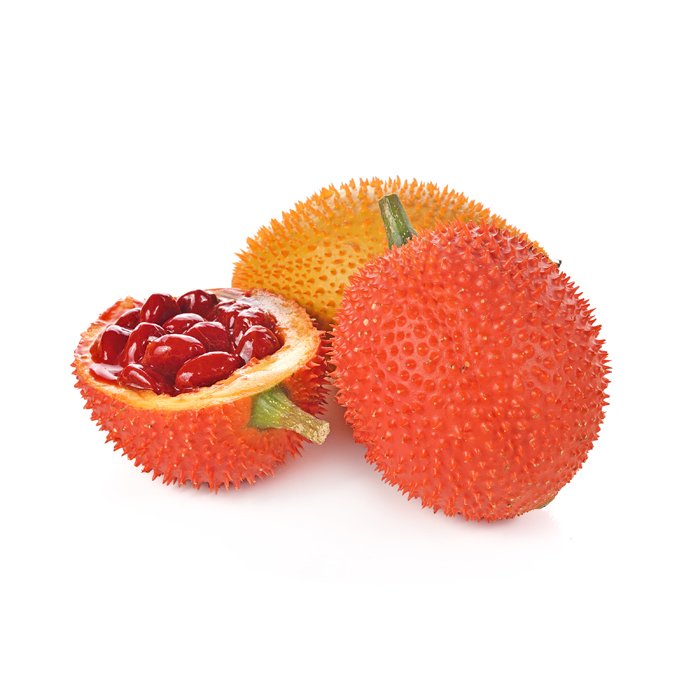 Gac Fruit - Exotic Fruits
Description
Of scientific name Momordica Cochinchinensis, the Gac, or Gâc, is an Asian fruit that belongs to the family of the Cucurbitaceae.


Origins
The Gac continues to grow naturally in the vicinity of forests in South and South-East Asia. There, the long vines, which can measure up to 6 m, still climb today on fences, on trees or on the edge of rivers, to an altitude ranging from 400 to 1100 m.


Characteristics
The fruit is usually round or oblong, measures about 13 cm long by 10 cm in diameter, and becomes progressively dark red when ripe. Pollination can be assisted by insects, but manual pollination results in higher yields. A plant can produce between 30 and 60 fruits in a season. The colour of the fruits gradually changes from green (unripe fruit) to yellow, orange and red. The fruit is firm at harvest, but becomes soft quickly, causing transport and shelf life difficulties. Its exocarp is covered with small thorns, while its mesocarcid is dense and light orange in colour. It has a sweet taste like moringa.


Other facts
Already in 1941, at the time of French colonization, Vietnamese and French researchers found in gac a percentage of carotene a dozen times higher than in a carrot or a tomato. Vietnamese doctor Nguyên Công Suât is responsible for the production of the famous Vinaga capsules, first produced in 2002 from the plant genetic principles of Gâc. This medicine is used especially against the cirrhosis of the liver, colitis and various poisonings. In Vietnam, Gâc fruit is always served at wedding parties.
Production
Gac is a tropical fruit from South-East Asia produced mainly in South China, Thailand, Vietnam, Laos, Myanmar (Burma), Cambodia and North-East Australia.
Seasonality of the product