Did you know?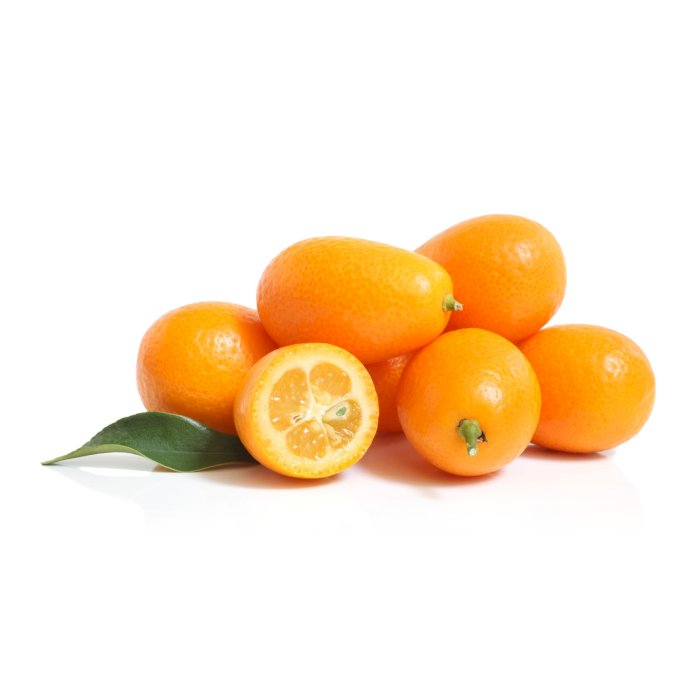 Kumquat - Citrus
Description
The Kumquat owes its scientific name of Fortunella to Robert Fortune, collector of the Royal British Horticultural Society. It is a fruit tree of the citrus genus, of the family of Rutaceae, whose species are called Kumquats. This term also designates its fruits.


Origins
The shrub is native to the Far East and was introduced in Europe in 1846. Kumquat is a word that comes from the Chinese gām-gwāt which means golden orange in Mandarin, or large orange mandarin fruit in Cantonese.


Characteristics
The Kumquat is an evergreen shrub that is 4 meters tall. its fruit is small, round or oval, 2-5 cm long. It can be consumed with its orange-yellow skin, which is tender and gives its tasting a slightly bitter flavor. Its pulp is acidulated. Kumquats are easily blended with other species of the genre Citrus and Poncirus. These varieties are grouped in a hybrid genus called Citrofortunella, which includes among others Calamondín, which is a cross between kumquat and mandarin, Limequat which comes from kumquat and lemon, and Orangequat which comes from kumquat and orange tree. The most widespread of the kumquats are the Fortunella Margarita, which produce yellow-orange oval fruits of acid pulp, and the Fortunella Japonica, which produce round fruits of sugary pulp.


Other facts
Originally belonging to the genus Citrus, these species were then classified in the genus Fortunella at the beginning of the 20th century, but recent work by the botanist Mabberley advocates their return to the genus Citrus.
Production
Produced mainly in China and the Philippines, they are consumed fresh or whole with their skin, or processed into candied fruits. Kumquats are also cultivated in Africa, North America, the Greek island of Corfu and southern France, especially in the Toulon region. They also occupy a prominent position in the l'île de La Réunion.
Seasonality of the product