Did you know?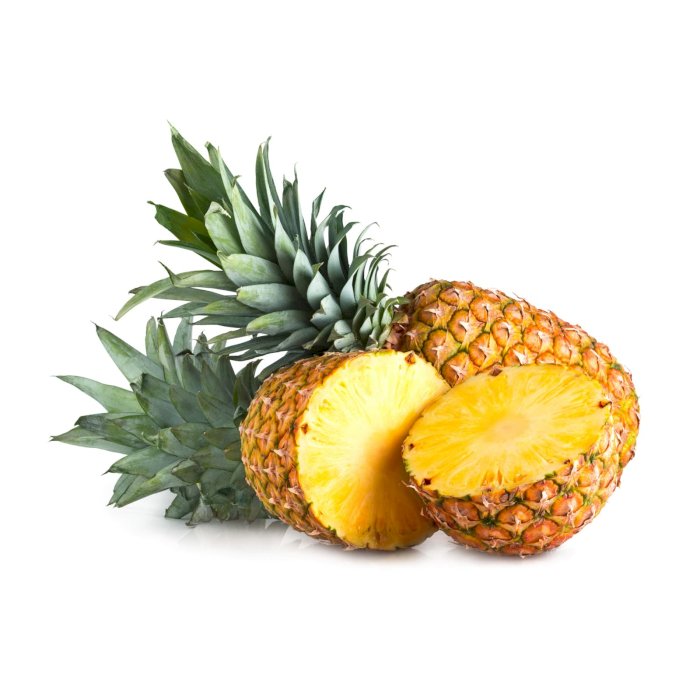 Pineapple - Exotic Fruits
Description
Ananas Comosus is the cultivated plant that produces the fruit known as Pineapple. This shrub belongs to the family of Bromelias. It is also known as Ananas or American pineapple.


Origins
The Comosus pineapple is native to the tropical or subtropical regions of South America, probably from Paraguay, Uruguay and Brazil. However, although it has been cultivated and selected for millennia, its botanical species of origin remains mysterious.


Characteristics
Some of these fruits can weigh up to 2 kg, and usually have an oval shape protected by a hard skin and scales, with an upper end decorated with showy green leaves like a crown. Its pulp is yellow, barely fibrous, sweet and acidic, very fragrant. When the pineapple is ripe its pulp is firm but flexible, the leaves can be pulled off with a strong tug and the aroma is more intense at the bottom. It is consumed fresh and preserved. It is commonly used in the West for desserts and salads, but increasingly as a sweet ingredient in Eastern food preparations, and numerous industrialized by-products such as tropical juices, yoghurts, ice-creams and jams are also produced.


Other facts
For a long time the pineapple was a fruit highly appreciated by the noble classes and exalted as a symbol of elegance and hospitality. But it was only at the beginning of the eighteenth century that the first crops were obtained in Holland and England, and thus their production gradually spread throughout Europe.
Production
Pineapple accounts for about 20% of global tropical fruit production. It is the second most cultivated exotic fruit on the planet after bananas. Thailand and the Philippines are the two largest producing countries in the world, with a harvest of about 12% of the total. Then there are Nigeria and Ecuador, whose production is destined for their own domestic market. In contrast, world pineapple exports are dominated by Costa Rica, which alone accounts for 66% of this market.
Seasonality of the product