Did you know?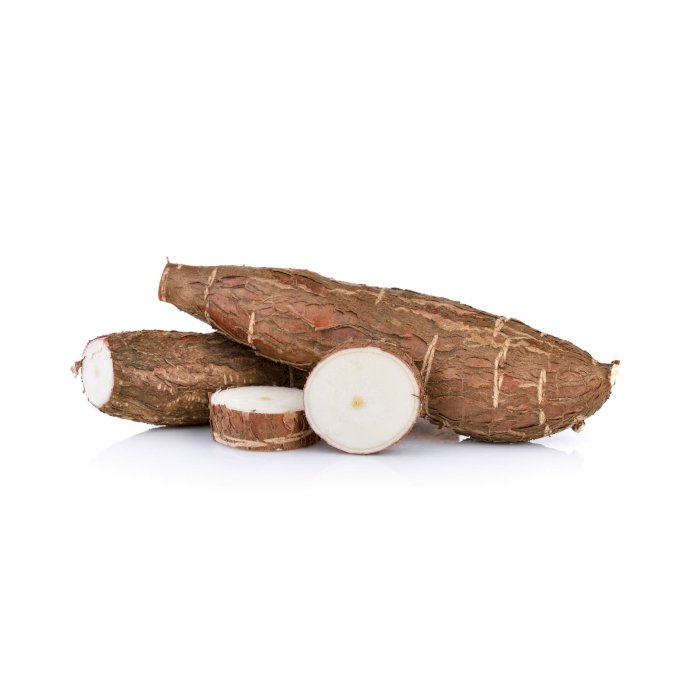 Cassava - Roots & Tubers
Description
Cassava (Manihot esculenta) is a species of the Euphorbiacae family, a perennial shrub produced as an annual plant in tropical and subtropical regions. It is commly knowned as Manioc, Yuca or Mandioca)


Origins
It comes from Central America and South America.


Characteristics
Since cassava is a root plant, its scientific term corresponds to the tuberous root, so the term tuber would be inappropriate to use. This species has two main varieties, the bitter Cassava (or bitter Yuca), not suitable for consumption if not detoxified first, whose roots when dried are transformed into tapioca, cassava or flour, and the sweet Cassava (or sweet Yuca), suitable for consumption as it contains eight times less cyanogenic heterosids as opposed to bitter cassava. Because its nutrients include vitamins A and C, its leaves are also consumed, especially on the African continent.


Other Facts
The name Cassava (or Manihot) represents both the plant itself and its starch-rich tuberous root. Its nutritional contribution comes from its roots rich in gluten-free carbohydrates. Cassava culture has become so widespread in America that the word flour refers mainly to cassava flour, not wheat flour. In 1649, the word appears, thanks to Jan Nieuhof, who made its mention when recounting the cooking of a cake made from cassava flour called tipiacica, in Brazil.


Production
This food has since been the fourth best-selling plant worldwide. Its global production is estimated at 790 kilos per second, with an annual harvest of 250 million tons. The main producing country is Nigeria with 45 million tons, followed by Thailand with 25 Mt, Indonesia with 22 Mt. And India with 18 Mt, in turn the sum of the production of the Caribbean countries is estimated to be 35 million tons.
Seasonality of the product