Did you know?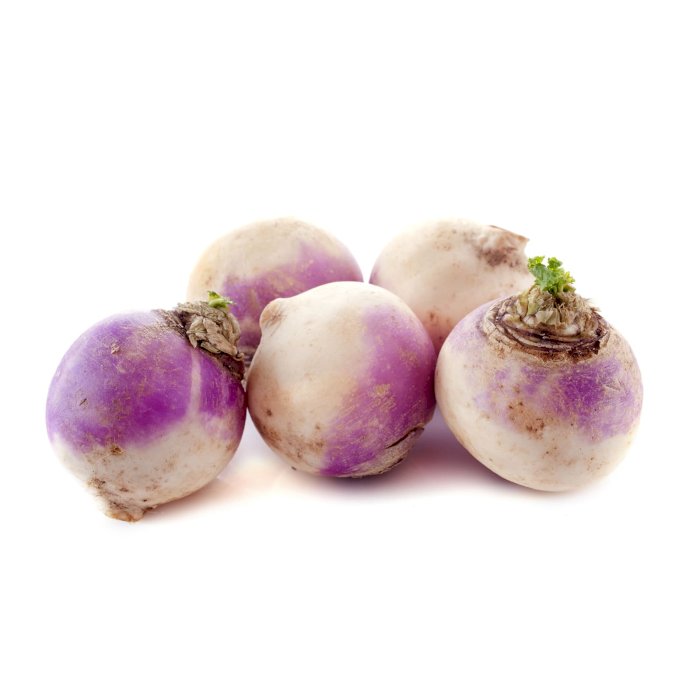 Turnip - Vegetables
Description
Herbaceous plant belonging to the family of the Brassicaceae, the Turnip bears the scientific name of Brassica Rapa subsp. rapa and is cultivated as a horticultural plant for its rounded fleshy root. In gastronomy it is consumed as a vegetable. It is also known as white radish.


Origins
Its name comes from the Greek ράπυς, ράπυος and has been known since antiquity. Pliny the Old accurately describes it since the first century AD.


Characteristics
It is a biannual herbaceous plant cultivated as a root vegetable due to its tuberized hypocotyl. The leaves are oblong, of a green colour and more or less rough to the touch. The fruits are long and fine siliceous, cylindrical, acuminate, each containing 10 to 30 small reddish spherical seeds, sometimes almost black. Depending on the varieties and climate, the tuberized root may be pale yellow, white, grey, black or purple-white bicolor. Its flavor is more or less sweet, sometimes a little pungent and spicy.


Other facts
This vegetable, rich in potassium, occupied for a long time an important place in the diet of the Europeans before being dethroned by the potato. It was, in fact, the vegetable of the poor, of times of war and scarcity. After this period of misfortune, turnips today lend themselves to tasty recipes.
Production
Europe produces 300,000 tons a year and France, which ranks third behind the United Kingdom and Italy, a crop of 55,000 tons. These are produced in Brittany for 18% of the total, in the Nord-Pas de Calais for 16% and in Lower Normandy for 13%. The French consume 900 g per family per year.
Seasonality of the product
Grades
Navet Long / 300 G
Navet Rond / 150 à 250 G
Navet Rond / 250 à 350 G
Navet Rond / 400 à 600 G
Navet Rond / 80 à 100 G